Adopted Boy Tells Mom That He Wants To Hold Their Dying Dog While She Goes To Heaven
Worldwide attention has been drawn to a mother's post regarding her adoptive son and the death of a pet.
After receiving some unexpected news, Maria Henry Gay recently revealed that her family had to say farewell to their senior dog. Maria had brought their dog, Buffy, in for a routine dental checkup.
Blood tests were performed first because of Buffy's old age. Buffy was found to have advanced kidney failure, according to the findings. Maria stated that a difficult choice had to be made.
She posted on Facebook, saying, "We decided that the kindest and the best thing to do would be to set her free before she lost her will to survive and stopped taking food and drinks.
When Maria learned they would have to bid Buffy farewell, she wanted to make sure her son Robbie was involved in the decision-making and picked him up from school right away.
Robbie, her son, has experienced similar difficulties and is well aware of the struggles faced by older animals in shelters. Before Maria and her husband started taking care of him, he was neglected and abused for years while in the foster care system. Therefore, when her son expressed a desire to "hug her when she went to heaven," she didn't find it surprising. Maria described the painful moment when her kid cried as Buffy died on his lap.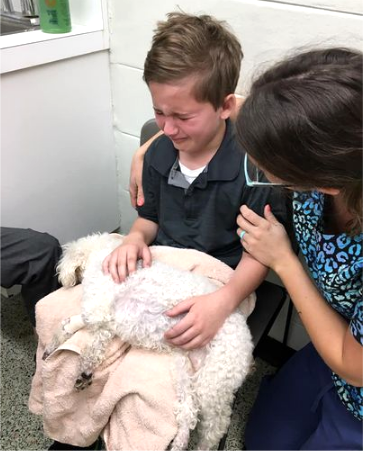 Photo Credits: Maria Henry Gay (Facebook)
I was proud of him for appreciating the value of caring for elderly animals and doing his part to ensure they never experience pain.
Maria then expressed her pride in her son for "knowing the value of caring for aging creatures and trying to ensure they never ever suffer," telling him that she was so proud of him.
His mother was, however, far more impressed by his response. He stated:
"I understand what it's like to not feel loved or cared for, and I never want any of my animals to experience that. When they enter paradise, it is simply sad for us. For them, today is a joyous day. I appreciate you praising me. Are you alright, Mom?
Many people, including Robbie's parents, have been impressed by his words and actions.
Someone wrote, "So sorry for the young man and your family. He seems to have a strong moral character and a sound mind.
He is a unique little man, another person said. God bless him and his amazing heart.
Another person spoke of the pain of losing a pet, stating, "They give us so much throughout their too brief lives, and in exchange you gave her a quiet and gentle goodbye. Despite how painful it was, you were there for her when she needed you. Today you both showed a lot of bravery. You have my sincere condolences.
Due to Robbie's personal experience with the foster care system, Maria pointed out that the family makes a point of adopting elderly pets.
Robbie has always advised his parents to adopt elderly dogs since, as most animal shelters will agree, they are the animals most underappreciated for adoption:
Photo Credits: Maria Henry Gay (Facebook)
Tragically, he is aware that the longer a child is in foster care, the less likely it is that they will be adopted.
Young Robbie has experienced firsthand what it's like to be a foster child waiting to be adopted, but he also observes how families select babies and younger kids:
Once, HE told me. "YOU WOULDN'T HAVE GOTTEN ME IF ALL YOU GOTTEN WAS A BABY," I said.
Robbie's early maltreatment may have caused him to become distrustful and afraid of love, which would have been understandable.
Robbie's heart, however, is full of love and compassion, especially for those who most need to be nurtured.
Due to his own experience, Robbie has wisdom and insight much beyond his years. It doesn't matter how long a dog is in your life, Maria says. What matters is how much you love them while they are there. She has only known him for two years, but he made a point of saying, "Yet you love me like you've known me forever."
It should be mentioned that the family only takes in older dogs, whom they refer to as "our 'old folks'." And according to Maria, her family intends to keep adopting elderly dogs in order to make sure that animals like Buffy will be adored and treasured for as long as they are with them.
Also read : After Being Rescued, An Exhausted Shelter Dog Falls Asleep On Her Rescuer's Lap