The Officer Purchases A Stuffed Unicorn For A Stray Dog Who Repeatedly Enters The Store To Steal It
Many dogs have a singular favorite toy, a unique plaything to which they are emotionally attached and prefer to everything else. These items can be quite enjoyable and soothing for our animals.
However, stray dogs who are left to fend for themselves frequently have no toys at all. One street dog knew he had to get a unicorn soft toy somehow after falling in love with it, and what occurred next changed his entire life.
A Dollar General[DG] store in Kenansville, North Carolina, called Duplin County Animal Control last week to report a highly odd theft incident.
A stray dog had been breaking into their shop repeatedly, always stealing the same stuffed, purple unicorn item.
Photo Credits –
Duplin County Animal Services
The dog seemed to be so obsessed with this particular toy that he would try anything to get his hands on it. Before animal control was notified, he allegedly attempted to steal the unicorn five other times.
According to Joe Newburn, manager of Duplin County Animal Services, "He went straight for the unicorn, the same one every time."
This one was one of the strangest calls I've ever handled since it was so weird.
However, Samantha Lane, the policewoman who arrived on the scene to remove the dog, felt compassion. She spent her own $10 to buy the unicorn for the stray since she knew how much it meant to him.
Photo Credits – Duplin County Animal Services
While the authorities looked for his owners, the dog was taken to animal services and held there.
Although rewarding a wanted shoplifter isn't standard policy, it was obvious that the toy meant the whole world to this poor dog who had nothing in the world. The dog's plush animal, which was now finally his, had him cling to it at intake.
Her peers weren't shocked by the Officer's generous gesture.
According to Newburn, WCTI 12, "This is something she's always done." Yes, she always does this for the animals. It's just a different dog. This is nothing new to her.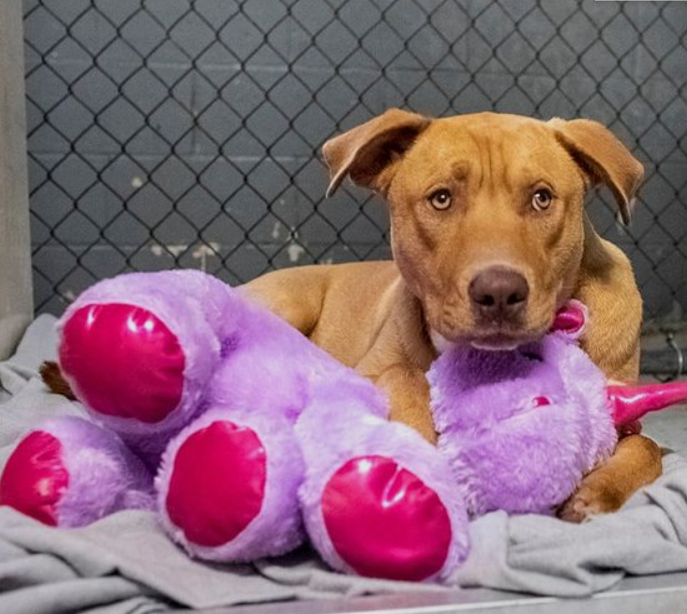 Photo Credits – Duplin County Animal Services
The cops gave the dog the name Sisu after Raya and the Last Dragon, a Disney creature with a purple mane and a unicorn-like horn.
Sisu was soon offered for adoption. The adoption advertisement for the dog went viral after Duplin County Animal Services posted the story of his close call with shoplifting.
According to Sisu's adoption article, she is "sassy with other dogs and will not put up with any back talk." "Very respectful to individuals. She is able to sit, lie, and heel and adores unicorns from Dollar General.
Photo Credits – Duplin County Animal Services
Sisu still relied on his plush unicorn to give him comfort as he waited for someone to take him home.
The reason he was so eager to get the toy was that the animal services officers thought he might have had a home in the past.
Newburn told People, "I don't know of any other reason why he would focus on the unicorn other than the fact that he has one at home. "It would make more sense to go looking for a purple unicorn if the retailer had called and said he tore open dog food," the customer added.
Photo Credits – Duplin County Animal Services
Regardless of where he originated, Sisu has a happy home today, thanks to an adoption announcement made by animal control!
Sisu ultimately had the joyful ending he deserved after his story gained widespread attention. He will undoubtedly bring over some extras, as well as his favorite unicorn. Dollar General declared that they would be giving his adoptive family extra plush unicorns in celebration of their most well-known client.
Additionally, they sent Duplin County Animal Services with pet food and presented Officer Lane with a "special thank you gift."
The fact that Sisu is having fun with his new toy makes us paws-itively happy! The corporate office of Dollar General informed WCTI 12 in a statement. We appreciate Animal Control Officer Lane's help in rescuing him as well.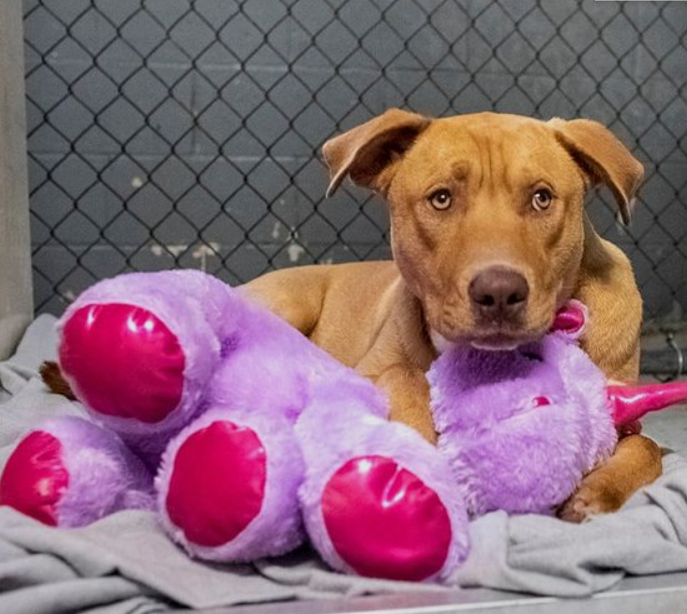 Photo Credits – Duplin County Animal Services
We are so happy that Sisu & his unicorn have now found a permanent residence! What a satisfying conclusion. Tell others about this amazing story!
Also Read : Adopted Boy Tells Mom That He Wants To Hold Their Dying Dog While She Goes To Heaven