A Cyclist Discovers Puppies Buried In A Hole And Rescues Them By Carrying Them In His Shirt
Hearing about people going above and beyond to help animals in need is always heartwarming.
A bicycle went above and above to help a bunch of five puppies who had been abandoned and left for dead. He gave them rides and engaged in supporting the puppies to find homes.
Brazilian rider Thyago Costa Silva was out practising with some buddies. But they had to go off course after seeing a horrifying, tragic sight in the middle of nowhere.
5 puppies were discovered buried in a pit by the cyclists: "Someone dug the hole & left them there to die," Tyago told The Dodo. They were helpless and unable to flee.
Photo credits – Thyago Costa Silva
The cyclists were horrified and disturbed by what they saw and found it hard to comprehend why someone would treat the little puppies with such cruelty.
They were aware that they needed to help. They stopped and provided them with food and drink. Tyago is seen in a video on his Instagram page giving the pups, who are pretty thirsty, water from his bottle.
They merely wanted to live, he claimed.
The cyclists went even further after giving them water by placing the puppies in their shirts and rode 12 miles to obtain help for them.
Photo credits – Thyago Costa Silva
Tyago took things a step further by bringing the five puppies into his own house to provide for them.
Tyago admitted to The Dodo that it was "quite emotional." "I brought them home and took care of them."
He was still unable to comprehend the abuse they endured, but he remained hopeful that the puppies would soon find new homes. He posted a message on Instagram saying, "I hope they receive a home and get owners who have a real heart."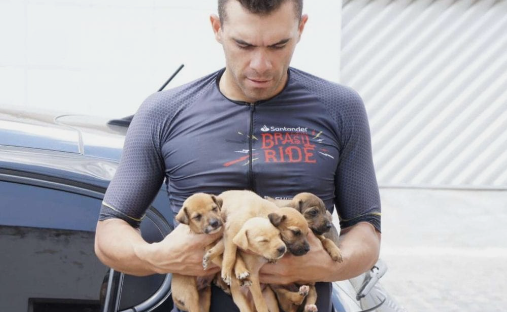 Photo credits – Thyago Costa Silva
Thankfully, the puppies' heartbreaking story has a happy conclusion since, with Tyago's help, they have all been adopted into forever homes.
According to the rider, "They'll have happier lives." "I'm confident they'll receive excellent care. I'm very glad about this.
Tyago claims he has received a lot of attention and praise for saving the dogs, but he maintains that it was the right thing to do.
He stated on Instagram, "I didn't do it for the media, I don't need it, I did it for love, I did it as any other decent human being would.
I'm very grateful to everyone and to God for giving me the chance to experience this; it was magical, and I'd do it as often as I could.
We can't believe someone would abandon these puppies for dead in such a way, but we are so relieved that they are now safe. We appreciate Tyago and his companions going above and beyond to save these sad dogs!
Share this incredible story!