Bully, The Oldest Dog In The Rescue, Celebrates His 23rd Birthday With A Special Celebration
Unfortunately, dogs don't live as long as people do, though some are fortunate to have good, long lives. When a dog approaches old age, every birthday is a special occasion.
For instance, one adorable rescue dog recently celebrated his 23rd birthday (an amazing age in dog years) with a very special party.
Bully, a Chihuahua, has lived a long life, but at the age of 21, he underwent a significant life shift when his elderly owner was unable to care for him any longer. Bully was then adopted by the senior dog rescue, The Mr. Mo Project.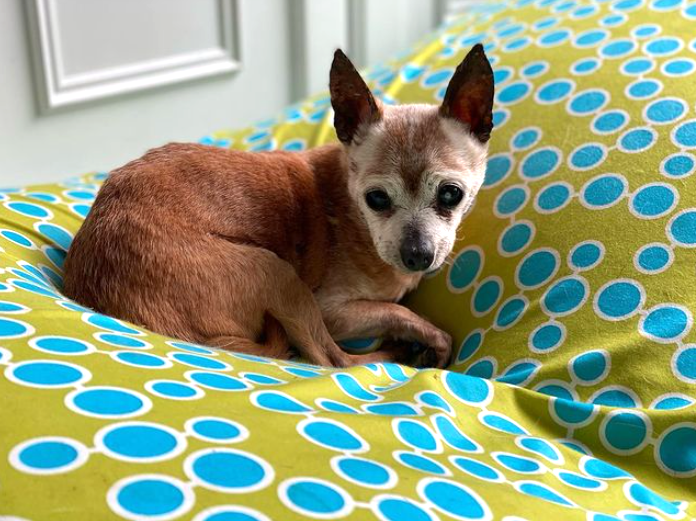 Bully has decided against looking for a new home because the Hughes have grown to love him and his foolish antics.
Photo Credits – mrmoproject
At such an advanced age, it can be challenging for a dog to adjust to new surroundings. In dog years, Bully, also known as Bobo, is a "super senior" because he has long since exceeded the average lifespan of Chihuahuas.
Bully has adapted to his new home and has continued to thrive, nevertheless, after spending two years in the rescue.
Chris Hughes, the rescue's director, told The Dodo that Bully is feisty, mischievous, sweet, independent, gentle, peaceful, and has an old man bark. Even in his old age, he enjoys attempting to push another Chihuahua around the house.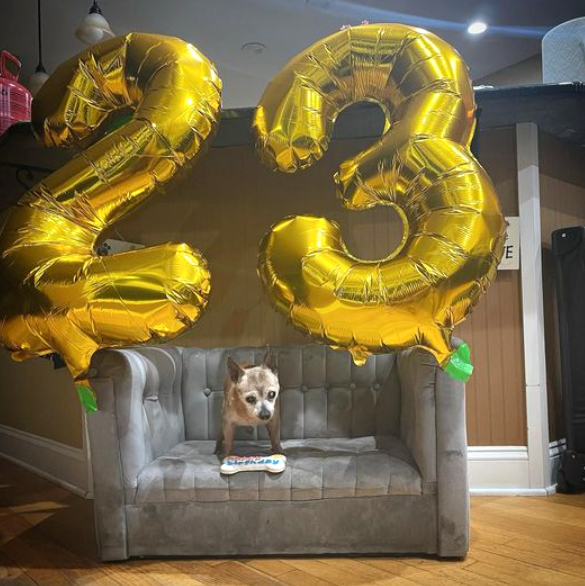 Happy birthday to Bully the Chihuahua, who is spending 23 wonderful years with his family!                                                          Photo Credits – mrmoproject
Bully, who is currently the oldest resident of the shelter, just celebrated his remarkable 23rd birthday, and they made sure to do so in grand style.
Bully was born on April 5, 1999, according to a Facebook post. He is one of the few dogs who have survived two millennia and is still alive. Few dogs could even imagine reaching his age.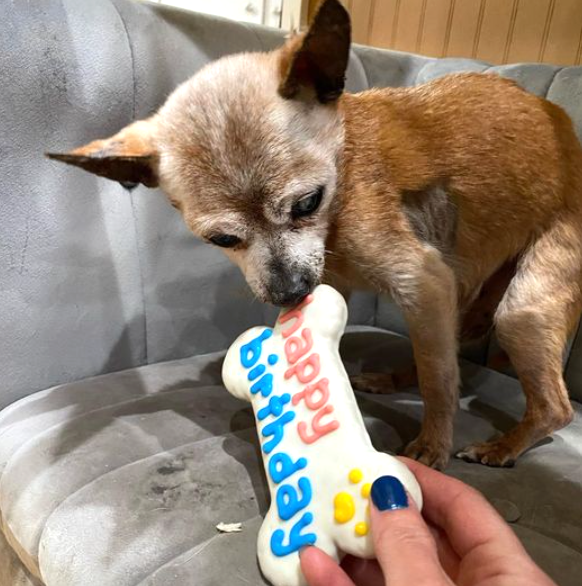 The old dog enjoyed a bone-shaped cookie and plenty of rest on this special day. Photo Credits – mrmoproject
This old dog wanted a more low-key celebration, despite the fact that the event is one that deserves a great splash.
Hughes explained, "He doesn't have many teeth, so we purchased a soft biscuit and crushed it up for him to enjoy. "The best gift to give him is sleep, which he really enjoys,"
Chris and Mariesa founded the nonprofit organization to fight for the survival of senior dogs in shelters around the country and to remember their beloved and late senior dog, Mr. Mo. Photo Credits – mrmoproject
Senior dogs hold a very particular place in the hearts of Chris Hughes and his wife Mariesa, who founded the Mr. Mo Project. After caring for Moses, a 12-year-old dog who had been given up for adoption due to "being too old," they were motivated to find the rescue.
The couple reportedly spent more than $55,000 converting their house into a sanctuary for elderly dogs in order to give these frequently neglected senior animals a loving home to live out their golden years.
Chris told Insider, "We both have full-time jobs outside of The Mr. Mo Project. The work being done here is a labor of love, not a job. All of our funds are allocated there.
The charming dog was born on April 5, 1999, and his original family took him in and raised him for 21 years.            Photo Credits – mrmoproject
"Many of these dogs that come to us are probably passed over due to the way they appear. They have matted hair, poor legs, chipped teeth, and crusty eyes. But they still have a lot of life to live.
They constantly make an effort to recognize their dogs' significant life achievements because they have witnessed numerous senior dogs arrive and depart over the years.
A Dog Living To Be 23 Years Old Is No Small Accomplishment, So Why Do Some Dogs Live Longer Than Others?

As most dog-to-human age calculators tend to stop at 20, it is uncertain whether the math relating the dog to human years is entirely accurate. Even though Chihuahuas are a breed of puppies that often live the longest, 23 is still amazing.

Why, though, do smaller dogs typically live longer than their larger dog relatives?

Dogs typically live for 10 to 13 years, but as they get older, their lifespan decreases. Since of this, choosing a puppy is important because you are effectively committing to spending a certain period of time with them.

According to studies comparing size and age-related mortality in dogs, larger dogs age substantially faster than smaller dogs, which causes them to pass away earlier. This finding was made by Professor Mark Elgar of the University of Melbourne's School of Biosciences.

Given their larger size, larger dogs may experience physiological stress that causes them to wear out more quickly: "Modern vehicles typically function effectively for eight to nine years before wear and tear takes hold and they begin to break down. The rate at which they degrade varies depending on the manufacturer. Dogs experience the same thing.
People have praised the story and sent Bully and his family their best wishes. Post your ideas in the comments section! 
Chris told The Dodo that "we try to appreciate all the positive things that happen in our home since so often there are not-so-great things that happen." We host birthday parties, adoption ceremonies, and Christmas in July celebrations when we believe someone won't live through the holiday season.
And Bully's big 23rd birthday was perhaps one of the most memorable events, not just because of his astonishingly older years but also because of how much he has meant to them over the last two years.
According to the owners' Instagram post, "When he arrived, I honestly didn't want to add another dog to our herd, especially a 21-year-old." However, what about this? Bully brings us so much joy that I can't even begin to picture my life without him anymore. Therefore the cosmos must have known we needed him.
Happy birthday, Bully! Wishing you more joyous years in the years to come! What an amazing accomplishment to live to 23!
Share this incredible news and good birthday wishes for this adorable dog!