Each Night, Two Shelter Dogs Who Were Saved At The Same Time Share A Bed
Five-year-old pit bulls Romeo and Damian were rescued together. The poor puppies were found by the Nassau County SPCA starving, dehydrated, and severely underweight, with ribs, spines, and hips clearly visible. As soon as possible, they were hurried to a nearby vet clinic to begin receiving the treatment they had obviously never received before.
The puppies were checked by veterinarians, who discovered that Romeo had metallic foreign things in his stomach in addition to all of his other problems. Despite the trauma and abuse, they have experienced, both puppies still have a long way to go in their recovery. Nevertheless, their spirits have not been at all affected.
Photo Credits – NASSAU COUNTY SPCA
Romeo and Damian, who both continually want human contact, have fallen in love with each and every individual who is helping them in getting better.
Executive director of the Nassau County[NC] SPCA Maria Mora said to The Dodo, "They are both really adorable. "Their specialty is kissing. However, as they need to work on their manners, some training will be necessary.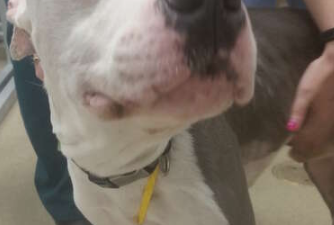 Photo Credits – NASSAU COUNTY SPCA
Romeo and Damian share a great friendship and appear to find comfort in one another while they recover and wait for their ideal forever families to come along. They both share a deep love for humans.
Romeo and Damian often sleep curled up next to each other because they prefer to be cuddled.
And it's pretty much the most adorable sight ever.
They will be available for adoption after receiving the necessary medical clearance, which we anticipate will happen soon, according to Mora.
Photo Credits – NASSAU COUNTY SPCA
Even though Romeo and Damian have been through a lot, with each other's support and the affection of their rescuers, they are more than ready to accept their second opportunity.
Contact the Nassau County SPCA for additional information if you're interested in adopting Romeo or Damian (or both!).
Also read : This Little Puppy Cried Out In Hunger And Despair As She Walked Around The Building Site!